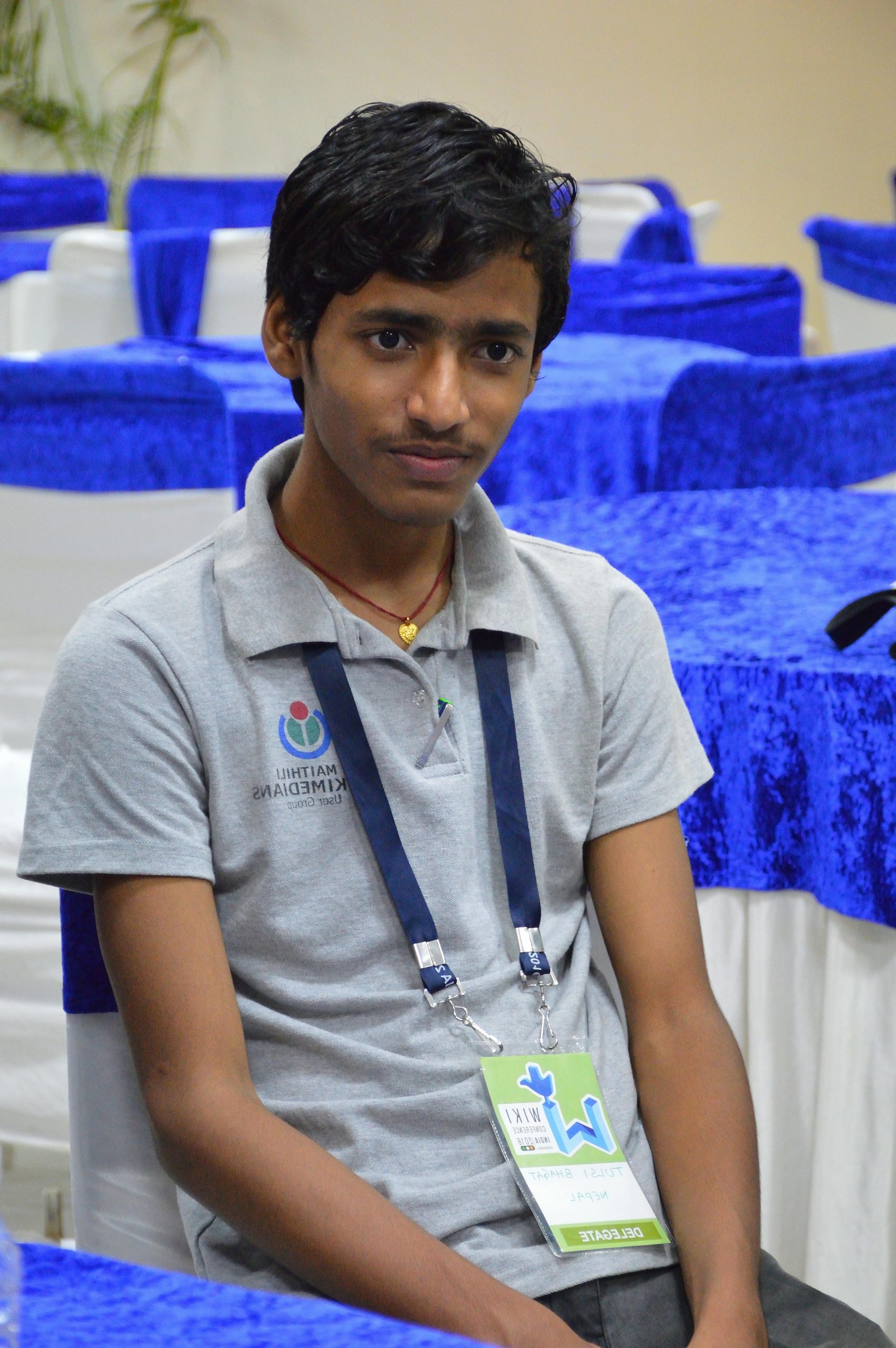 Nepalese blogger, Wikimedian, Internet and Social activist
⭐ Featured Wikimedian of the Month for May 2016 by Wikimedia India
Tulsi Bhagat considers himself to be a Maithili Wikipedian, who is the most prolific Wikipedian from Nepal.
At the age of 15, he came to know about Wikipedia, and it's sister projects. His love for Wikipedia started while he met with Biplab Anand and Bijay Chaurasia in Rajbiraj, Nepal. At that time, Anand and Chaurasia was looking for Wikipedia in their own native language i.e., Maithili language Wikipedia (mai.wikipedia.org). Bhagat got self inspiration and thought of helping them to start Wikipedia in his mother tongue i.e. Maithili language, a largest free online article repository in Maithili language. Bhagat created hundreds of articles during the time, and played a vital role in founding Maithili Wikipedia. Thus, how he titled as co-founder of Maithili Wikipedia and currently volunteering on Administrator role.
Later on, he enthusiastically engaged in other Wikimedia Projects. He has started editing Wikipedia, Wikidata, Wikimedia Commons, Wiktionary and so on. As he is native speaker of Maithili Language and Nepali Language and also has the ability to speak and understand English, Hindi, Bhojpuri, Fiji Hindi and Doteli language, he has focused approaches for all these languages of Wikipedia.
Bhagat is a student of Management, he uses Wikipedia a lot. Not only Wikipedia but also the other projects such as Wiktionary, Wikibooks etc. He says, "Wikipedia is the highest platform and boon for the whole world and especially for the students because they need information continuously whether it's for making notes or for completing assignments." He really enjoys editing Wikipedia because he knows that the contributions given by him is read by billions of people around the world.
Living six years here, He has coordinated in various events and outreach such as WACN, Wikicamp Nepal 2018, WikiConference India 2016, MediaWiki Awareness and Training in Indic Projects, Maithili Wikipedia 1st Anniversary, Wikiproject Data-a-thon, Wiki Loves Monuments, Women Edit-a-thon, Wiki Loves Earth, Mission 10 and so on.
The time when he known & learned about the #100wikidays challenge, Tulsi decided to take part on that personal challenge because he believes and always feels competent to take the challenge. Tulsi has completed #100Wikidays and #7HumanRightsWikiDays for the first time. Yes, he is the first Wikipedian from Nepal who has taken and completed the personal challenge.
Wikimedia India gave the wonderful opportunity and nominated him for the "Featured Wikimedian of the Month" for May 2016 because they thought that he deserved recognition for his works and efforts. Tulsi received "Featured Wikimedian of the Month" honor from Wikimedia India. It happened after he had edited and improved thousands of articles at his native Maithili & Nepali Wikipedia. He has so far contributed globally over 90,000 edits to Wikimedia projects which consists of editing articles, uploading media files, countering vandalism and many more. Thus, He is one of the top profile contributors from Nepal.
Feel free to reach out to him at [email protected]
Read Bhagat's story on Wikimedia Foundation